Investigators considering 4 theories relating to explosion that killed Zaluzhnyi's aide

The State Bureau of Investigation is considering four possible theories relating to the death of Major Hennadii Chastiakov on Nov. 6, the law enforcement agency's communications adviser Tetiana Sapian said on air on Nov. 8.
Chastiakov, an assistant to Ukraine's Commander-in-Chief Valerii Zaluzhnyi, was killed on his birthday when a grenade he had been gifted exploded in his home in Chaiky, a suburb of Kyiv. His thirteen-year-old son was seriously injured in the explosion.
Investigators believe that the most likely version of events is that death was accidental, caused by "the careless handling of ammunition," Sepyan said.
However, three other theories are being considered at this stage of the investigation, including a case of murder, a killing organized by Russian special services, and an attempted Russian assassination of a different member of Zaluzhnyi's team.
Interior Ministry spokesperson Mariana Reva also said on Nov. 7 that the explosion was likely the result of careless handling of ammunition.
An unnamed man had confessed to giving Chastiakov the grenade but also said that he had warned him that it was live.
Chastiakov likely disregarded the warning, Reva told RFE/RL's Ukrainian service, and the grenade exploded.
According to the State Bureau of Investigation, the case involves article 410-4 of Ukraine's Criminal Code, which covers stealing, misappropriation, and extortion of weapons and other military equipment committed by a service member under martial law.
Police evacuated 126 children from front-line settlements in Donetsk Oblast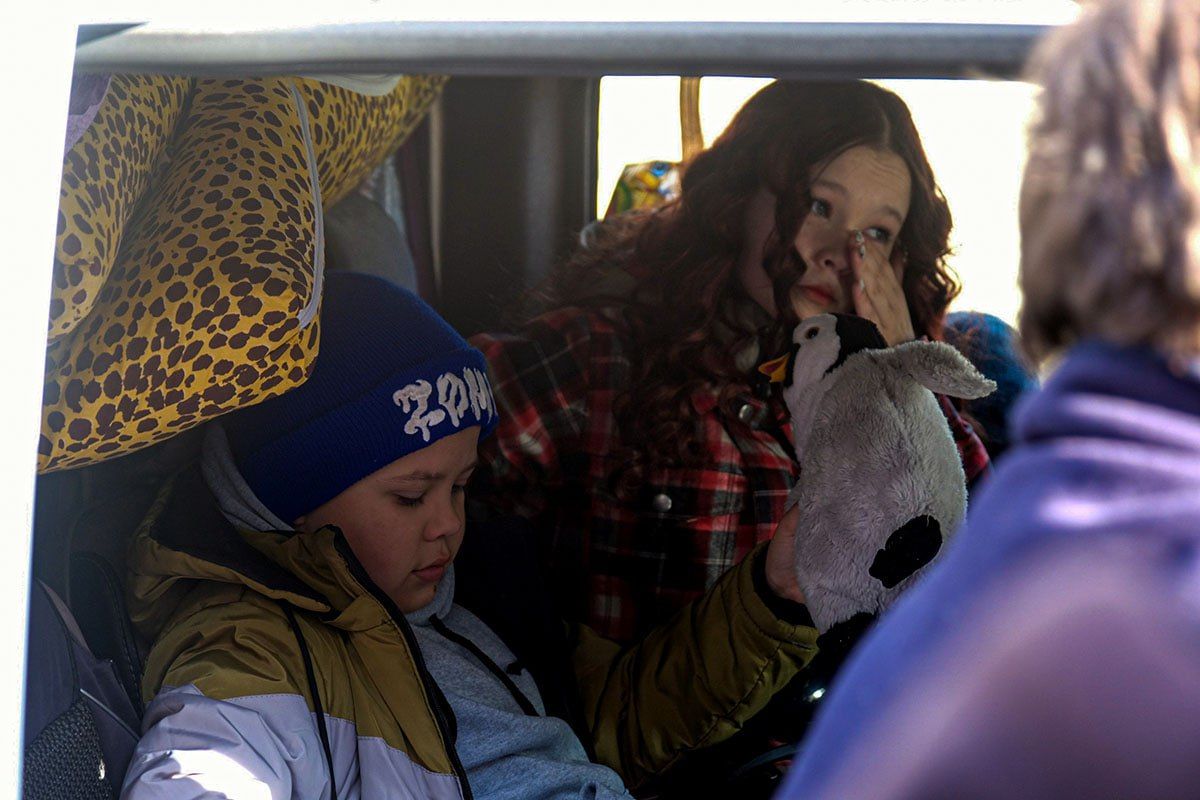 Ukraine's National Police have successfully rescued 126 children from front-line settlements in Donetsk Oblast since the authorities ordered a mandatory evacuation in late October, as reported by Interior Minister Ihor Klymenko on November 8.
The evacuation operation is ongoing, as there are still 128 more children remaining in settlements that are constantly targeted by Russian forces.
On November 8, Donetsk Oblast police carried out a successful rescue operation, evacuating all 15 children who had stayed in the villages of Ocheretyne, Yelyzavetivka, and Katerynivka, according to Klymenko's announcement on Telegram.
The minister noted, "The last family to agree to evacuate included two school-age children. They had not been attending school, as the school had been destroyed by the Russians. The parents were accustomed to living in a war zone, making it challenging for the police to convince them to leave."
Now, the family resides in a safer region of Ukraine, where the children will have the opportunity to attend school.
The regional police are making daily efforts to provide humanitarian aid to families in front-line villages of Donetsk Oblast while trying to convince them to evacuate.
The mandatory evacuation of approximately 250 children from eight settlements in Donetsk Oblast was ordered by Ukrainian authorities due to a "critical security situation" on October 23. All children are required to be accompanied by their parents or legal guardians during the evacuation process.
Polish strikers completely block 2 border crossings for cargo
Polish truckers on strike completely blocked the ability of cargo trucks to cross into and from Poland at two border checkpoints and partially blocked another, said Serhii Derkach, a deputy minister at Ukraine's Infrastructure Ministry, on Nov. 7.
The Yahodyn – Dorohusk and Rava-Ruska – Hrebenne crossings on Ukraine's border with Poland were completely blocked, according to Derkach.
The transport of humanitarian cargo, buses, and private vehicles continued, albeit at a much slower pace.
Poland has been one of Ukraine's biggest backers and a key transit partner since the beginning of Russia's full-scale invasion in February 2022.
Protesters are demanding renewed restrictions on the number of Ukrainian trucks permitted in Poland, claiming that the lack of such restrictions was hurting business for Polish drivers. They are also calling for a ban on transportation companies from outside the European Union.
According to Derkach, Ukrainian officials were working with their Polish colleagues to resolve the situation.
"Polish colleagues confirm that the return of permits (for Ukrainian trucks) is one of the key requirements of truckers. For us, it is unacceptable in the conditions of war, with broken logistics chains and a (Black) Sea blockade," Derkach wrote on Facebook.
The deputy minister also pointed out that the Polish truckers' demands are in violation of the agreement on the liberalization of transport signed between Ukraine and the European Union in June 2022 and set to remain in force until July 2024.
"It is impossible for Poland to cancel it (the agreement). And we will work on its continuation," Derkach said.
Earlier on Nov. 6, Ukraine's Ambassador to Poland Vasyl Zvarych called the protests "a knife in the back" of Ukraine, which continues to suffer from Russian aggression.
It was previously reported on Nov. 2 that Polish truck drivers planned to block the border crossings in protest against Ukrainian truckers.