Stoltenberg: 'We must prepare for a long war in Ukraine'
NATO Secretary-General Jens Stoltenberg does not expect the Russian war in Ukraine to end quickly, he said in an interview with the German Funke media group, published on Sept. 17.
"Most wars last longer than expected when they first begin," Stoltenberg said.
"Therefore, we must prepare ourselves for a long war in Ukraine."
He also said that even though everyone wants a "quick peace," there's a need to understand that if Ukrainians and President Volodymyr Zelensky "stop fighting, the country will no longer exist."
At the same time, Stoltenberg said that if Russian President Vladimir Putin and his country "lay down their weapons, we will have peace."
"The easiest way to end this war is for Putin to withdraw his troops."
During the interview, Stoltenberg also said that "there is no doubt" that Ukraine will become a NATO member eventually.
"At the NATO summit in Vilnius, Ukraine moved closer to NATO. When this war ends, we need security guarantees for Ukraine. Otherwise, the history could repeat itself," he said.
While Ukraine did not receive the much-desired invitation to join NATO during the Vilnius summit in July, the Alliance agreed to tighten cooperation with Kyiv by launching the Ukraine-NATO Council as a consultation and coordination platform.
In late August, Foreign Minister Dmytro Kuleba held a telephone call with Stoltenberg to discuss Ukraine's next steps on its path to membership.
"We discussed the adapted Annual National Program and a full-fledged rollout of the Ukraine-NATO Council," Kuleba said following the phone call.
Russian overnight missile attack hits civilian infrastructure in Kharkiv
Four Russian S-300 missiles hit a civilian enterprise in Kharkiv overnight on Sept. 17, Kharkiv Oblast governor Oleh Syniehubov reported.
The governor said the attack occurred around 12:30 a.m., causing a fire. He did not provide any information on the casualties.
According to Syniehubov, Russian troops attacked Kharkiv, Bohodukhiv, Chuhuiv, Kupiansk, and Izium districts across the Kharkiv Oblast over the past day.
At around 11 a.m. on Sept. 16, five Russian Iskander cruise missiles hit the regional capital, injuring six civilians.
The attack damaged civilian enterprises and residential houses, Syniehubov said.
At around 11:30 a.m. on Sept. 16, Russian troops fired a guided anti-tank missile at a civilian car near the villages of Strilecha and Hlyboke. The attack killed a man and a woman in the car and injured a 72-year-old man, said Syniehubov.
The governor added that a 23-year-old man was injured by Russian artillery fire in the village of Petropavlivka in the Kupiansk district.
Other Russian attacks across Kharkiv Oblast damaged residential houses and commercial facilities, according to Syniehubov.
Due to its proximity to the Russian border, Kharkiv Oblast is subject to near-daily attacks.
Russians target granary in Odesa Oblast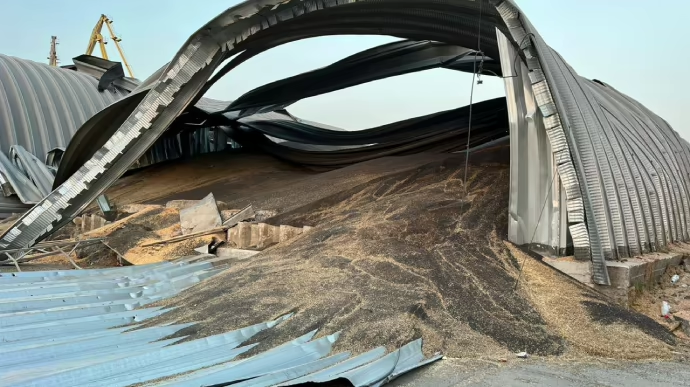 Russian forces attacked Odesa Oblast on the night of 16-17 September with missiles and drones, damaging agricultural infrastructure facilities, said Oleh Kiper, head of the Odesa Oblast Military Administration.