Russian attacks on Kharkiv Oblast killed 2, injured 7
The Interior Ministry reported that Russian attacks on the city of Kharkiv and the greater region on Sept. 16 have killed at least two people and injured seven others.
Earlier on Sept. 16, Kharkiv Oblast Governor Oleh Syniehubov reported that Russian forces had launched five S-300 missiles at the Kholodnohirskyi district in the city of Kharkiv.
The Interior Ministry clarified that Iskander-K missile fragments were recovered on site.
The attack injured five people and damaged an unspecified number of buildings. According to Syniehubov, the victims' injuries ranged from mild to moderate.

A 23-year-old man was also injured by Russian artillery fire in the village of Petropavlivka in the Kupiansk district, the Interior Ministry added.
Additionally, Russian forces opened fired on a car on the road near the village of Strilecha, which is located on the Ukrainian-Russian border. According to the Interior Ministry, a man and a woman were killed, and an elderly man was injured.
Homes and kiosks were also damaged by Russian shelling in the settlement of Kozacha Lopan, the Interior Ministry added.
Due to its proximity to the Russian border, Kharkiv Oblast is subject to near-daily attacks.
Poland bans entry for Russian-registered cars
Poland's Interior Minister Mariusz Kaminski announced on Sept. 16 that Russian-registered passenger cars will be banned from entering the country, the Polish Press Agency reported.
According to Kaminski, the ban will come into effect on Sept. 17. Poland joins the Baltic countries and Finland, which have already announced similar bans on Russian-registered vehicles.
Trucks registered in Russia were already subject to such a ban in Poland.
"Now we are closing this matter. No Russian vehicle will enter Poland," Kaminski said.
"This applies to all vehicles, including those used commercially and privately-owned cars, regardless of whether the owner is a Russian citizen or citizen of another country. The rule is that a car registered in Russia has no right to enter Poland."
Tensions have been steadily rising between Poland and Russia since the start of Russia's all-out war against Ukraine.
Poland serves as a major transportation hub for allied weapons to Ukraine. In mid-March, Polish authorities announced it had broken up a Russian spy network planning sabotage acts and monitoring rail routes to Ukraine.
Two people  injured in Russian attack on Zaporizhzhia Oblast
Russian forces launched attacks against eight Ukrainian oblasts in the past day — Sumy, Luhansk, Chernihiv, Zaporizhzhia, Donetsk, Kherson, Dnipropetrovsk, and Kharkiv.
The attacks damaged or destroyed multiple homes, industrial facilities, and civilian infrastructure, regional authorities reported.
Casualties were reported in Zaporizhzhia Oblast, where a Russian air strike against Orikhiv wounded two women aged 71 and 53, according to Governor Yurii Malashko.
Russia's military targeted a total of 20 settlements in Zaporizhzhia Oblast, damaging 31 houses and outbuildings, Malashko said on Facebook.
Orikhiv is a frequent target of Russian attacks since the town is located in the southeastern part of Zaporizhzhia Oblast, close to the front line. It is also one of the staging points for Kyiv's counteroffensive to the south.
On Aug. 12, Russian forces struck the town of Orikhiv with a guided bomb, killing one person and injuring 12 others, according to Interior Minister Ihor Klymenko.
Russian forces attacked Beryslav in Kherson Oblast, injuring 1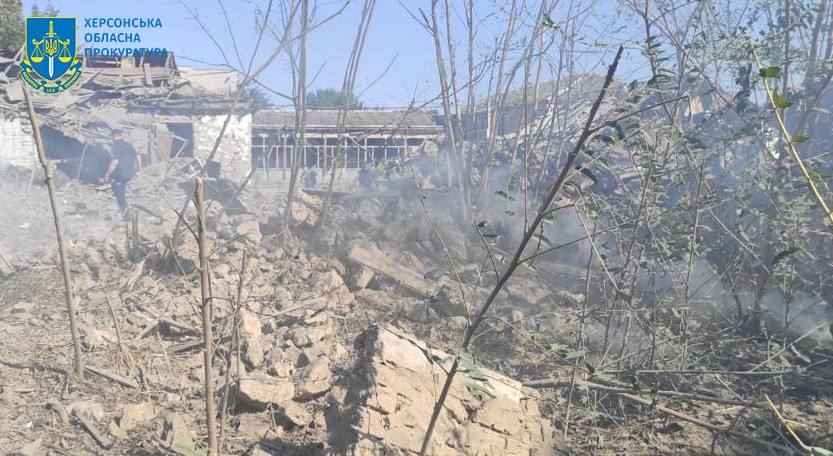 Russian forces carried out an air strike on Beryslav in Kherson Oblast on Sept. 16, injuring a 63-year-old woman, the Prosecutor General's Office reported.
According to the Prosecutor General's Office, the shelling started around 2 p.m. local time.
Approximately 15 homes were damaged as a result of the attack.
The Kherson Oblast Military Administration added that the woman was hospitalized for her injuries and was in moderate condition.
The city of Kherson and other settlements in the region on the Dnipro River's west bank have been continuously subjected to Russian shelling since Ukrainian forces liberated them in November 2022.
Russian troops were pushed to the river's east bank, where they have since been firing at the liberated territories, resulting in regular civilian deaths and injuries.
Russians hit civilian car in Kharkiv Oblast, killing two people and wounding one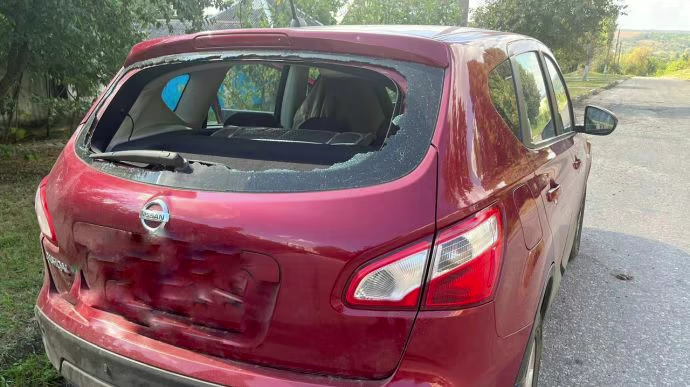 On Saturday, the Russians hit a civilian car with a guided anti-tank missile in Kharkiv Oblast; a man and a woman were killed on the spot, and another man was wounded.