UK intelligence explains why Russia wants to deploy hypersonic missiles over Black Sea
UK Defence Intelligence considers Russian President Vladimir Putin's statement about the patrolling of the Black Sea by carriers of Kinzhal aeroballistic missiles as an attempt to show Russian military power.
UK intelligence noted that Putin, while on his visit to China on 18 October, announced that Russian MiG-31I fighter jets with Kh-47M2 Kinzhal air-launched ballistic missiles would begin patrolling the airspace over the Black Sea.
At that time, the Russian president said such actions would be taken due to the strengthening of the US naval presence in the eastern Mediterranean, where they have deployed ships with weapons systems with a declared range of up to 2,000 kilometers.
"This announcement is in line with typical Russian rhetoric aimed at its domestic audience, calling the West aggressors whilst framing Russian activity as necessary for the protection of the state," UK intelligence noted.
UK intelligence indicated that Putin separately emphasized the presence of MiG-31 jets with Kinzhal missiles and their declared capabilities.
This was "almost certainly" done for "strategic messaging purposes" to show that Russia can continue to produce and operate new weapons despite the war against Ukraine. Kinzhal missiles are still being tested, and their effectiveness in Ukraine has been low.
"It [Kinzhal missiles – ed.] remains highly capable on paper, able to fly at hypersonic speeds and evade modern air defense systems, although there almost certainly needs to be a significant improvement in how Russia uses it to achieve this potential," UK intelligence concluded.
Russian forces hit Nikopol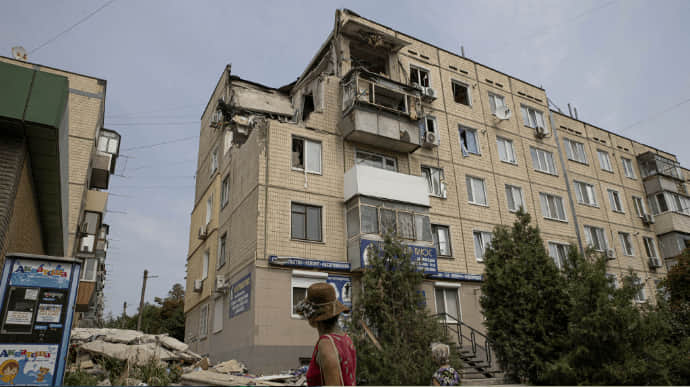 Russians attacked Nikopol with heavy artillery. The authorities say the Russians fired seven projectiles at the city. One civilian was killed.
UN Commission publishes report on rape and torture in Russian-occupied territories
Russian soldiers raped a 16-year-old pregnant girl and numerous women aged 19 to 83 during their occupation of Kherson Oblast. The victims were beaten; some had broken ribs and knocked-out teeth.
The UN Commission of Inquiry on Ukraine recently presented its report to the UN General Assembly, which was subsequently published on a Friday.
The document states that the Commission has focused its recent investigations on Kherson and Zaporizhzhia oblasts. The documented cases of rape by the Russian military occurred between March 2022 and July 2022 in small villages in Kherson Oblast.
In the cases investigated, the rape victims were a 16-year-old girl and women aged 19 to 83. Most of them were in a vulnerable condition. One of the victims was a 16-year-old pregnant girl, three were elderly women, some lived alone or with their children, or with a family member with a disability.
The victims were among the women who had remained in their villages after the occupation of the territory by Russian forces to care for the elderly or relatives with disabilities, to look after their property, or because they were unable to escape. The documented cases of rape were committed with the use of force or psychological coercion. Most incidents occurred after the perpetrators broke into the victims' homes and threatened them with weapons or the intention to kill their relatives. In some cases, the same perpetrator raped the victim two or more times. In two cases, several perpetrators raped the victims at once. One of the victims and her husband were shot dead by Russian soldiers after they reported the rape.
Moreover, the Russian military committed additional acts of violence against the victims of rape, including brutal beatings, suffocation, strangulation, cuts and shooting close to the victim's head. In several cases, family members were witnesses of the rape.
One witness reported that when a soldier raped her pregnant daughter, he said: "It's not scary; everyone does it".
The document describes several rape and sexual violence committed by the Russian military in Kherson Oblast.
"In March 2022, a Russian soldier came to the house of an 83-year-old woman and forced her to open the door. He questioned whether she knew persons who cooperated with the Ukrainian armed forces and beat her with his rifle. The soldier ordered her to undress, raped her, and continued to rape and beat her for several hours. He threatened to rape the woman's husband, who lived with a disability and was present in the house. The soldier stole some belongings," the report says.
In another case, in March and April 2022, several Russian soldiers repeatedly visited a married couple's home and shop. The victim reported that the soldiers "looted, forced her to cook for them, took showers, and slept in her house. During one visit in April 2022, Russian soldiers locked the husband in a room." After that, one of the soldiers threatened to kill the 59-year-old woman and sexually harassed her while repeatedly reloading his rifle. Later, in April 2022, three Russian soldiers broke into the house at night and shot at the man but missed. Two soldiers beat the woman with pistols, kicked her, threatened to shoot her, tore off her clothes and raped her. She tried to escape, but they grabbed her, dragged her into the house, and raped her again.
In May 2022, three Russian soldiers came to the home of a married couple who had stayed to look after their grandmother. They beat the 52-year-old man, and the 50-year-old woman was raped by all three of them in turn. The couple reported the rape to a Russian military commander. Their neighbors said that afterward, three soldiers "were looking for a woman who reported the rape," came to the couple's house and shot them dead.
In July 2022, a Russian soldier came to the home of a 75-year-old woman, where she stayed to protect her property. The soldier attacked her, hit her in the face, chest, and ribs, and choked her while interrogating her. He ordered her to undress, and when she refused, he tore off her clothes, cut her stomach with a small sharp object, and raped her several times. The following day, he raped her again and beat her. As a result, the victim had several broken ribs and knocked-out teeth.
Russians hit delivery company depot in Kharkiv Oblast, killing and wounding people
A Russian missile has hit a depot belonging to the Nova Poshta delivery company in Kharkiv Oblast, injuring 17 people and killing seven others.
"Kharkiv Oblast. A Russian missile has hit a Nova Poshta depot. An ordinary civilian facility. Unfortunately, some people have been killed. My condolences go out to their families and friends!
As of now, 13 people are known to have been injured. All services are working at the scene, and the search and rescue operation is ongoing," President Zelenskiy said.
Zelenskyy stressed that more pressure must be put on the terrorist state.
"We need to respond to Russian terror every day with our results on the front lines. We need to strengthen the unity of the world in the fight against terror even more. And we are doing that. Russia will achieve nothing with terror and killing. There is only one end for all terrorists: accountability for what they have done," he emphasized.