UK Defense Ministry: Russia likely preserving long-range missile stock for winter strikes on Ukraine
Russia has not used its long-range aircraft for strikes on Ukraine since Sept. 21, likely because it aims to conserve its stocks of long-range missiles for strikes on Ukraine's critical infrastructure in winter 2023, the U.K. Defense Ministry reported on Oct. 13.
This is not the first time that Russia has taken significant breaks in its usage of long-range missiles in Ukraine, the ministry noted. Previously, there was a similar pause in such strikes between March-April, likely because Russia had used up a significant amount of its missile stocks on last winter's failed campaign to knock out Ukraine's power grid.
President Volodymyr Zelensky warned on Oct. 6 that Russia will again attempt to destroy Ukraine's critical infrastructure this winter.
Russia has also increasingly used Shahed-type drones on strikes against port infrastructure in the Danube River region, by the Romanian border, ostensibly because of their advantage in accuracy over long-range missiles, the report added.
Despite this, drone wreckage and fragments have been found on the territory of Romania, a NATO country, numerous times.
Russia escalated its attacks against Ukrainian port infrastructure following its unilateral termination of the Black Sea Grain Initiative in July 2023, targeting Ukraine's river ports Izmail and Reni near the Romanian border.
Russian attacked on Pokrovsk in Donetsk Oblast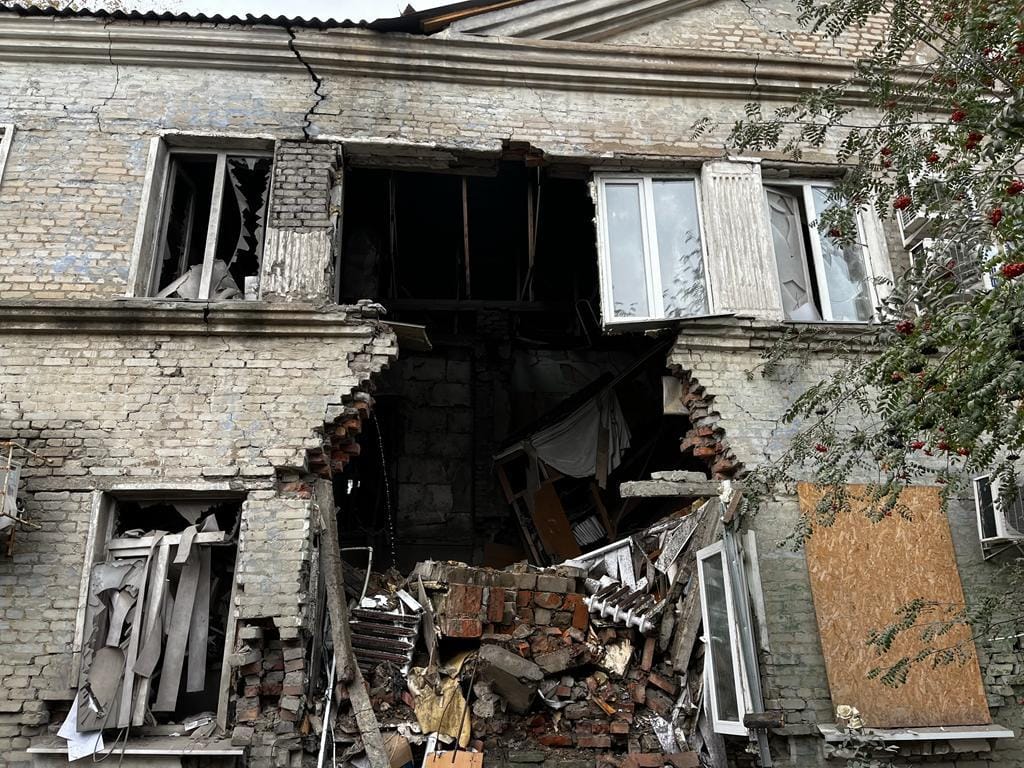 Russian forces struck Pokrovsk, Donetsk Oblast, on the morning of Oct. 13, killing at least one person and wounding another 13, acting Governor Ihor Moroz reported.
Two buildings were damaged in the city, Moroz said on Facebook, adding that the type of weaponry used in the strike is still being established.
Pokrovsk lies some 40 kilometers from the eastern front line, close to the administrative border with Dnipropetrovsk Oblast.
Earlier the same day, the regional governor wrote that Russian attacks against Donetsk Oblast on Oct. 12 killed three civilians and wounded eight more.
Over 20 houses, seven apartment buildings, a cultural institution, three administrative buildings, a heat pipe, and a power line were damaged in the region over the past day, according to Moroz.
Russian attacked Beryslav
A Russian attack on Beryslav in Kherson Oblast injured one person, Volodymyr Litvinov, regional administration head, reported on Oct. 12.
The shelling wounded a 70-year-old man, who received help from medics.
The same afternoon, the head of Kherson city military administration, Roman Mrochko, said Russian forces shelled the city's suburbs.
Information about the damage and if there are any casualties is being clarified, Mrochko said.
Earlier in the day, a 71-year-old man was killed after Russian shelling in Chornobaivka in Kherson Oblast, according to the regional military administration.
The attack also injured a 70-year-old man and damaged several buildings.
Russian offensive near Avdiivka highlights Russia's improving ability to apply battlefield lessons
Russian forces launched localized attacks on Avdiivka in the early hours of Oct. 10, following intensive artillery preparations. Geolocated footage from Oct. 10 and 11 confirms Russian troop advancements southwest of Avdiivka near Sieverne and northwest of Avdiivka near Stepove and Krasnohorivka in Donetsk Oblast, according to the Institute for the Study of War.
Up to three Russian battalions, supported by tanks and armored vehicles, intensified their offensive operations near Avdiivka, the Ukrainian General Staff reported earlier. Ukrainian General Staff Spokesperson Andrii Kovalev specified that these battalions are part of the 8th Combined Arms Army of the Southern Military District, involving three motorized rifle brigades.
"Russian sources celebrated Russian advances in this area and outlined several adaptations that suggest that Russian forces are applying lessons learned from operations in southern Ukraine to other sectors of the front," the ISW said.
The ISW notes that Russian forces' effective use of electronic warfare, counterbattery measures, artillery preparation, aerial reconnaissance, and inter-unit communication aligns with previous Russian claims regarding the strengths of their defense against Ukrainian counteroffensive operations in southern Ukraine, especially during June and July.
"These tactical-level adaptations and successes, however, are unlikely to translate into wider operational and strategic gains for Russian forces," the ISW concludes.
Number of casualties rises to 24 following Russia's attack on Pokrovsk
The number of casualties has risen to 24 following Russia's strike on the Social Protection Department building in Pokrovsk, Donetsk Oblast, on the morning of 13 October.
Russians hit Nikopol twice. Two firefighters were wounded.
On the afternoon of 13 October, Russian invaders opened fire on Nikopol, Dnipropetrovsk Oblast, wounding two firefighters during a second attack.
It is reported that at noon, Nikopol emergency services received a report of a fire caused by a Russian attack.
It is reported that at noon, Nikopol emergency services received a report of a fire caused by a Russian attack. A van at a temporary bus stop was on fire. Firefighters started to extinguish it, only for the Russians to open fire again. Two firefighters received shrapnel wounds and were taken to hospital. A fire and rescue vehicle was also damaged.