Russian shelling strikes 2 energy facilities in Kharkiv, Donetsk oblasts
Russian shelling on Nov. 15 struck a thermal power plant in Donetsk Oblast and damaged a gas pipeline in Kharkiv Oblast, Ukraine's Energy Ministry wrote.
Shelling hit the area of the plant, causing no casualties. A preliminary investigation was underway to determine the extent of the damage, if any.
The gas pipeline damage in Kharkiv Oblast caused at least 300 people to lose access to gas.
As Ukraine braces for an uptick in Russian strikes against the energy grid in winter, preparations are being made to mitigate the damage and defend critical infrastructure.
Russia began a campaign of mass strikes on Ukraine's energy system last year on Oct. 10 and continued to target the power system until spring, bringing the heating and power networks to a near-total collapse.
President Volodymyr Zelensky approved a plan on Nov. 7 by the National Security and Defense Council to stabilize Ukraine's energy sector in preparation for the coming winter months.
Andrii Cherniak, a representative of Ukraine's military intelligence (HUR), told the Liga news outlet on Nov.14 that Russia's special services were actively gathering information, including attempting to recruit collaborators, to strike Ukraine's energy infrastructure better this coming winter.
Two Emergency Service workers killed in Russian attacks in Zaporizhzhia Oblast
Two rescue workers from Ukraine's State Emergency Service were killed by Russian shelling on Nov. 15 in Zaporizhzhia Oblast while putting out a fire caused by earlier Russian missile attacks, Interior Minister Ihor Klymenko said.
The two men, identified by Ukraine's State Emergency Service as 31-year-old Vitalii Nakariakov and 34-year-old Serhii Dorohokuplia, immediately arrived on the scene of earlier missile attacks on the oblast to put out fires.
Russian shelling struck the site, killing Nakariakov and Dorohokuplia, as well as injuring three other rescue workers and four other civilians.
The Kyiv Independent has previously reported on Russia's use of so-called "double-tap" strikes, in which there is an initial strike followed by a delayed second attack so that it can potentially wound or kill first responders.
No information was provided about where precisely in the oblast the missiles hit.
Regional Governor Yurii Malashko reported earlier that three missiles struck residential areas of Zaporizhzhia Oblast on Nov. 15, killing one man and injuring at least seven people.
Russia planned to steal grain and starve Ukrainians ahead of invasion
New evidence compiled by human rights law firm Global Rights Compliance shows that Russia prepared to steal grain supplies, target food infrastructure, and starve the Ukrainian population months before the full-scale invasion, the Independent reported on Nov. 16.
GRC found that Russia's defense contractor started buying bulk carrier cargo ships and trucks to transport grain as early as December 2021.
Following the launch of the full-scale invasion in February 2022, Russian forces attacked grain-rich regions and food infrastructure first as part of a deliberate starvation campaign, GRC's report says.
"Russia not only deployed a multi-pronged approach by besieging civilian populations, destroying critical infrastructure, but it also pre-planned the seizure and pillage of agricultural commodities in an insidious plan," Catriona Murdoch, a partner at GRC, told the Independent.
"Moscow has sparked a global food crisis and attacked Ukraine's agriculture sector as a warfare tactic."
EU warns Poland it must take action to stop border blockade protest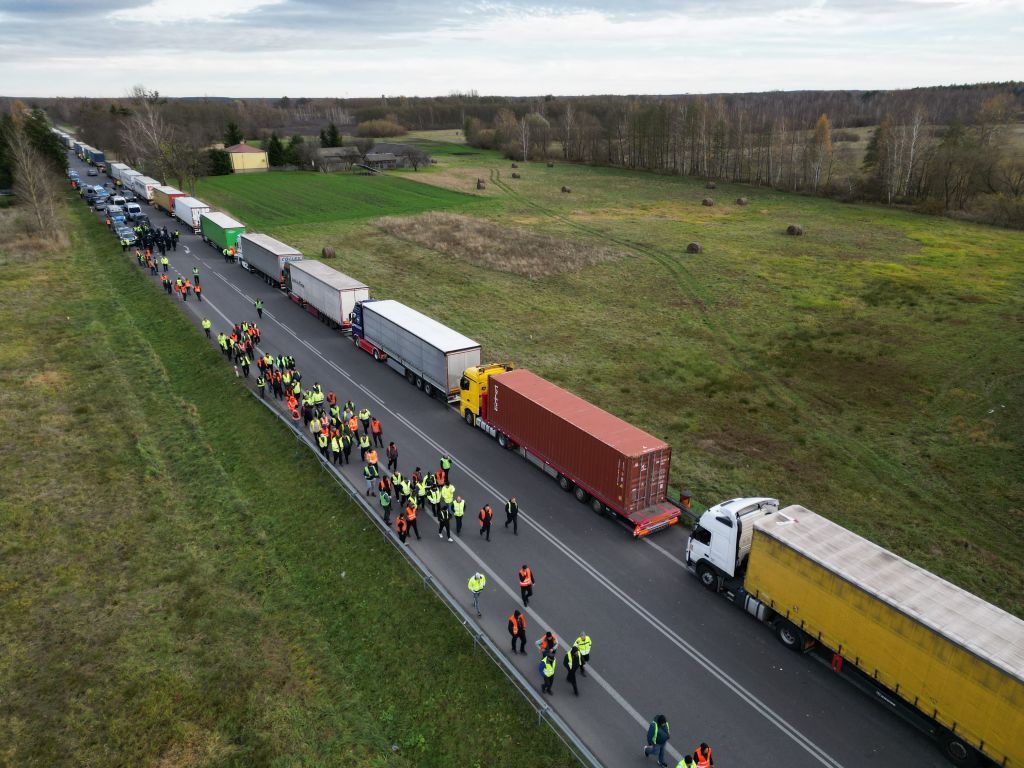 The European Commission is warning the Polish government that it must take action to end the blockade of the border with Ukraine by Polish truckers, Polish media outlet RMF24 reported on Nov. 16.
A European Commission spokesperson told RMF24 that the "Polish authorities, under EU law, are obliged to ensure the free movement of Ukrainian trucks at border crossings."
Polish truckers started blocking three border crossing points on Nov. 6, in protest of the liberalization of EU transport rules for Ukrainian trucks.
The Polish authorities are obliged to keep the border open as it is a key "Solidarity Lane," according to an RMF24 journalist in Brussels.
"Solidarity Lanes" between Ukraine and the EU were launched May 2022 as part of a European initiative to keep Ukraine's trade routes open amid Russia's full-scale invasion.
The road and rail border crossings have become increasingly important following Russia's attempts to block Ukraine's Black Sea ports from July 2023 and ongoing attacks on port infrastructure.
"Some in the European Commission believe that the Polish authorities are not doing everything to solve the problem and end the protest of Polish carriers," RMF24 reported.
The European Commission refused to comment on potential measures that may be taken if Poland refuses to act, as discussions with both countries are ongoing.
However, "Brussels is losing patience," the report said.
According to EU rules, Ukrainian trucks do not require permits until June 30, 2024, after the EU and Ukraine signed an agreement in June 2022 to liberalize transport rules.
Polish truckers claim that the lack of entry permits for Ukrainian trucks is hurting Polish drivers' business. They also call for a ban on transportation companies outside the EU.
Ukrainian officials met with Polish truck drivers on Nov. 13, but the talks failed to make progress.