Water at Dnipro hydroelectric plant drops to critical level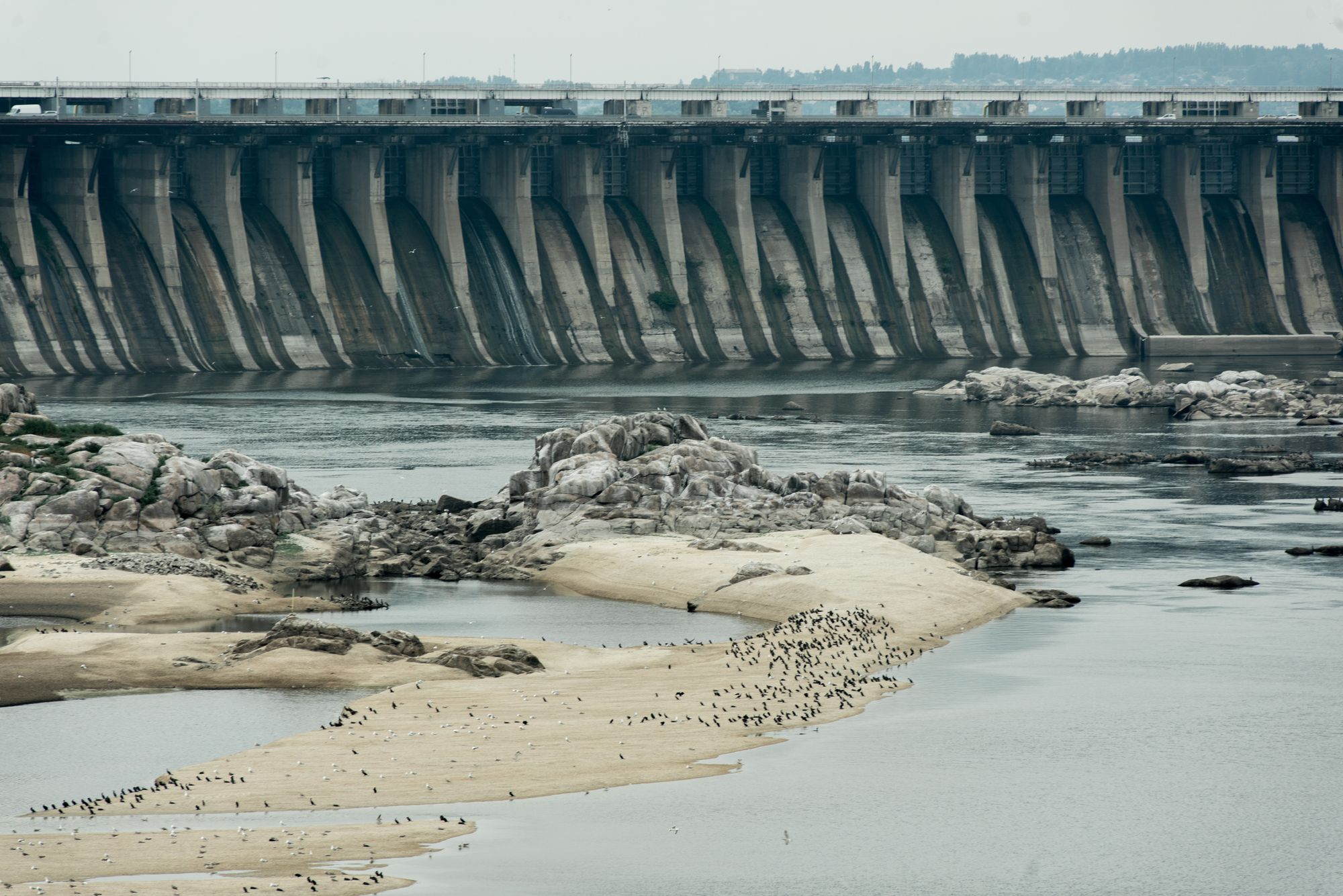 Water at the Dnipro Hydroelectric Power Plant has dropped to a critical level, threatening the station's full operational capacity, the state-owned energy company Ukrhydroenergo reported on July 24.
The water level is now at 12.05 meters, while the plant requires 12-12.5 meters for full functioning, Ukrhydroenergo wrote on Telegram.
The company is now searching for feasible solutions to ensure the plant can operate at total capacity.
After Russian forces destroyed the occupied Kakhovka power station and the adjacent dam on June 6, the Dnipro River upstream from the dam experienced significant drops in water levels.
This affected not only the Dnipro Hydroelectric Power Plant in the city of Zaporizhzhia but also the Kakhovka Reservoir, which is a crucial water source for southern Ukraine and for the Zaporizhzhia Nuclear Power Plant.
The breach further caused massive flooding and a large-scale humanitarian and environmental catastrophe in the country's southern regions.
As Ukrhydroenergo noted, the reconstruction of the Kakhovka dam can be carried out only after adequately examining the damage caused by the Russian sabotage.
The company added that preparations are underway for a "difficult period" in the following fall and winter.
Russian attacks injure 8 people over past day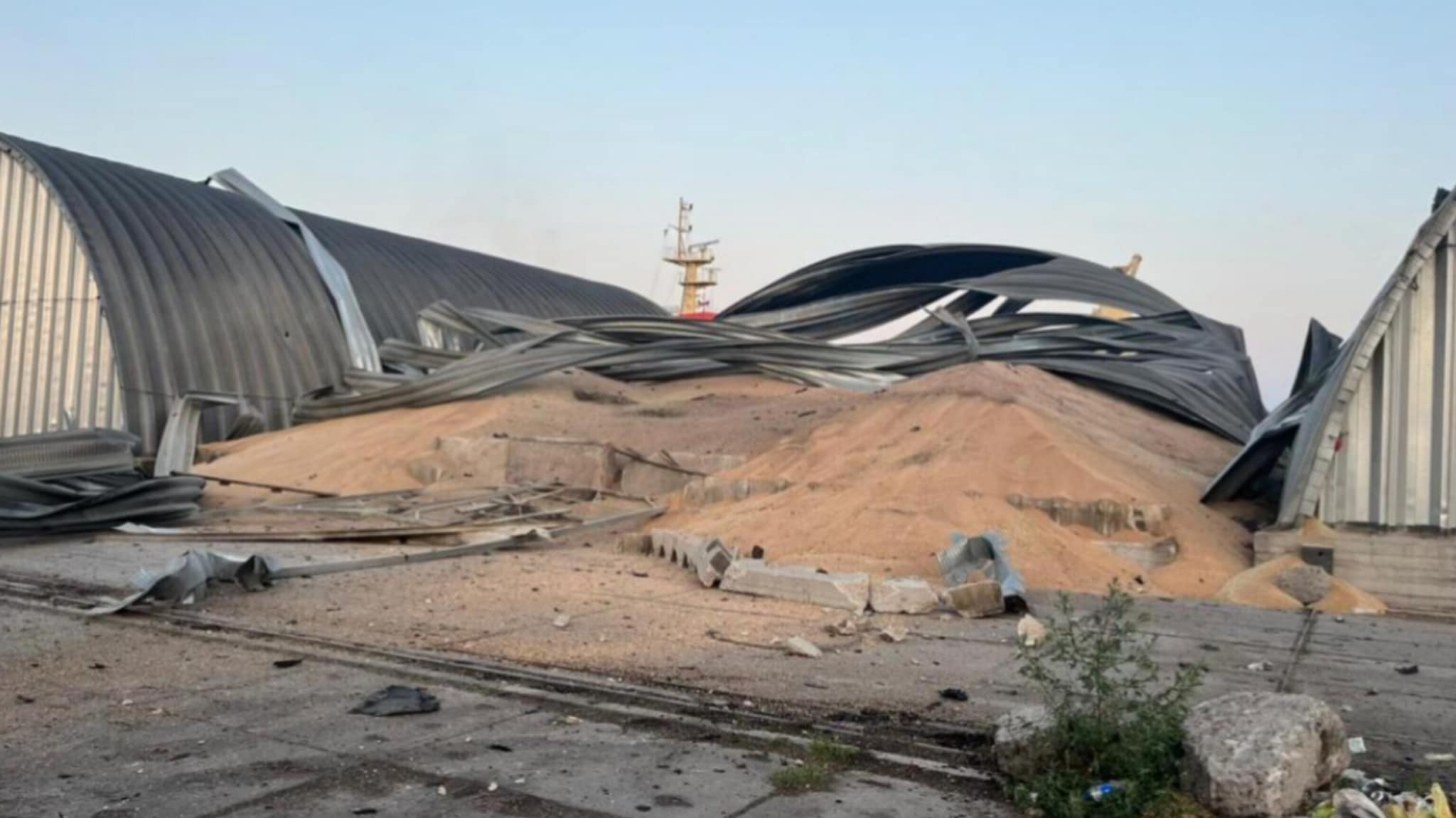 Russian attacks targeted four oblasts and injured eight people over the past day, local officials reported on July 24.
Russian forces attacked Odesa Oblast overnight with kamikaze drones, injuring six people, Odesa Oblast Governor Oleh Kiper reported on July 24.
Four of the people injured were reportedly hospitalized, one person with severe wounds. According to Kiper, three people have light shrapnel injuries and bruising.
Kiper said the attacks targeted port infrastructure on the Danube River. As a result, a grain hangar was destroyed, and tanks for storing cargo were damaged. A fire also broke out at the premises but has reportedly already been extinguished.
The attack on Odesa Oblast follows a Russian attack on the city of Odesa's historic center on July 23.
Russian forces carried out 58 attacks on Kherson Oblast on July 23, Kherson Oblast Governor Oleksandr Prokudin reported. One person was reportedly injured after Russian troops struck residential parts of the oblast.
According to Prokudin, Russian forces also shelled the city of Kherson 10 times.
The Russian military also attacked Kharkiv Oblast, targeting Kharkiv and communities in the region's Chuhuivskyi, Kupianskyi, and Iziumskyi districts, Kharkiv Oblast Governor Oleh Syniehubov reported.
A 70-year-old woman was reportedly injured, and residential and farm buildings were reportedly damaged. Meanwhile, the Sumy Oblast Military Administration reported that Ukrainian air defense downed Russian kamikaze drones during an attack on Sumy Oblast.
Russian forces also attacked Luhansk, Chernihiv, Dnipropetrovsk, Zaporizhzhia, and Donetsk oblasts.
Explosions reported in Moscow, mayor claimed drone attack
Russia's Defense Ministry reported on its Telegram channel that two drones hit central Moscow in the early hours of July 24. According to local state news agencies, the fragments of a drone were found later some two kilometers away from Russia's Defense Ministry's main building.
Moscow Mayor Sergey Sobyanin said on his Telegram that the drones hit two office buildings. They were reportedly neutralized by electronic warfare. There were no casualties, according to the mayor.
Komsomolsky Avenue from the center of Moscow towards the city's outskirts was closed, RIA news agency cited Moscow's Department of Transport.
A previous drone attack on Moscow that targeted the Kremlin occurred early on May 3, several days before Russia celebrated Victory Day. Russian officials at the time said the drones were intercepted and destroyed before they could cause injuries.
As explosions and drone strikes continue in Russia, Ukrainian officials are often coy about the incidents, hinting they're responsible without directly taking credit.
China Secretly Sells Drones to Russia Worth over $100 Million – Politico
Despite China's public calls for peace over the past year, the country has actively increased its trade of dual-use goods with Russia, assisting Moscow in importing sanctioned Western technologies and other things.
According to customs records obtained by Politico, Russian buyers have declared orders for hundreds of thousands of bulletproof vests and helmets made by Shanghai H Win — the items listed in the documents match those in the company's online catalog.
Additionally, Russia has imported more than $100 million of drones from China this year — 30 times more than Ukraine. Chinese exports of ceramics, a component used in body armor, increased by 69% to Russia to more than $225 million while dropping by 61% to Ukraine to a mere $5 million, Chinese and Ukrainian customs data show.
Importing Chinese dual-use goods to Russia often occurs through shell companies created to conceal the trade activity. For example, one such company Silva is headquartered in the remote Eastern Siberian region of Buryatia. In January of this year, it filed declarations detailing orders for 100,000 bulletproof vests and 100,000 helmets by Shanghai H Win.
Regarding drones, the Chinese manufacturer DJI claims to have severed ties with Russia and actively prevents using its products in combat operations.
However, Politico found a contract between the Chinese company Iflight and Russia to supply DJI drones through another company in Hong Kong in October 2022.
The trafficking of low-tech body armor to high-tech drones and thermal optics highlights a vulnerability in the Western sanctions regime. The ambiguity surrounding the dual-use status of this equipment, coupled with the fact that a significant portion of it is manufactured in China, seems to have placed the possibility of the West taking meaningful action beyond reach.
Last week, French President Emmanuel Macron's advisor, Emmanuel Bonne, stated that France was aware that some facts could indicate certain Chinese assistance to Russia in its war against Ukraine.
Ukraine to be able to increase grain exports in August
Next month, Ukraine will be able to increase exports of grains and oilseeds from the current 2 million tonnes per month to 3 million tonnes and shortly – to 4.5 million tonnes.
"Ukraine can already export about 2 million tonnes of grains and oilseeds per month through the Danube ports. I hope we will have a record next month and see the figure of 3 million tonnes," - said Mykola Gorbachov, the president of the Ukrainian Grain Association.
This allows Ukraine to export about 3.5 million tonnes per month. And shortly, with improvements, exports will reach 4.5 million tonnes per month,"he said.
Gorbachev stressed it is extremely important for Ukraine to resolve the issue of reducing the cost of logistics.
He expressed confidence that the international community "must find ways and mechanisms to influence Russia so that the Black Sea Grain Initiative does not stop and Ukraine continues to feed the world".
Gorbachev pointed out that before the full-scale war, Ukraine shipped 7 million tonnes of grain per month through the Black Sea ports alone, and, of course, it had not yet "reached the required parameters".
In his opinion, developed countries will pay for Ukraine's inability to export grain with food inflation, and developing countries will lack the ability to buy "such jewels as corn and wheat".