Missile strike on Odesa kills 1, injures 18
A Russian missile attack on July 23 killed one civilian and injured 18 others, including four children, Odesa Oblast Governor Oleh Kiper said on Telegram.
Kiper said that 14 people were being hospitalized in the city of Odesa. Three of the hospitalized victims are children.
Kiper said the information is subject to change, adding that ambulance crews were still at work on the ground.
Russian forces launched Kalibr cruise missiles and Onyx supersonic anti-ship cruise missiles at Odesa and Mikolaiv Oblasts overnight, the Air Force reported on July 23.
Earlier, Kiper had reported via Telegram that the attacks damaged civilian infrastructure, residential buildings, and a religious institution.
The Air Force announced the first launch at 12:57 a.m. local time and urged residents to seek shelter.
A second launch was reported at 1:12 a.m. The Air Force reminded residents of the region not to film or post any aerial defense activity on social media.
Kiper also appealed to residents not to upload pictures of the attacks to social media. "Do not help the enemy," the governor said.
This is the latest in a series of attacks on Odesa that Russian forces have launched this week, targeting critical port and grain infrastructure in the wake of Moscow's withdrawal from the Black Sea Grain Initiative.
Russian missile attack destroyed historic cathedral in Odesa
Russian missile attacks on July 22-23 night caused significant damage to Odesa's historic Transfiguration Cathedral, the city administration reported.
The building was partially destroyed, and several Orthodox shrines were damaged.
The cathedral belongs to the Ukrainian Orthodox Church of Moscow – a branch of the Russian Orthodox Church active in Ukraine.
The cathedral was hit in a large overnight missile attack that killed one civilian and injured 18 others, including four children.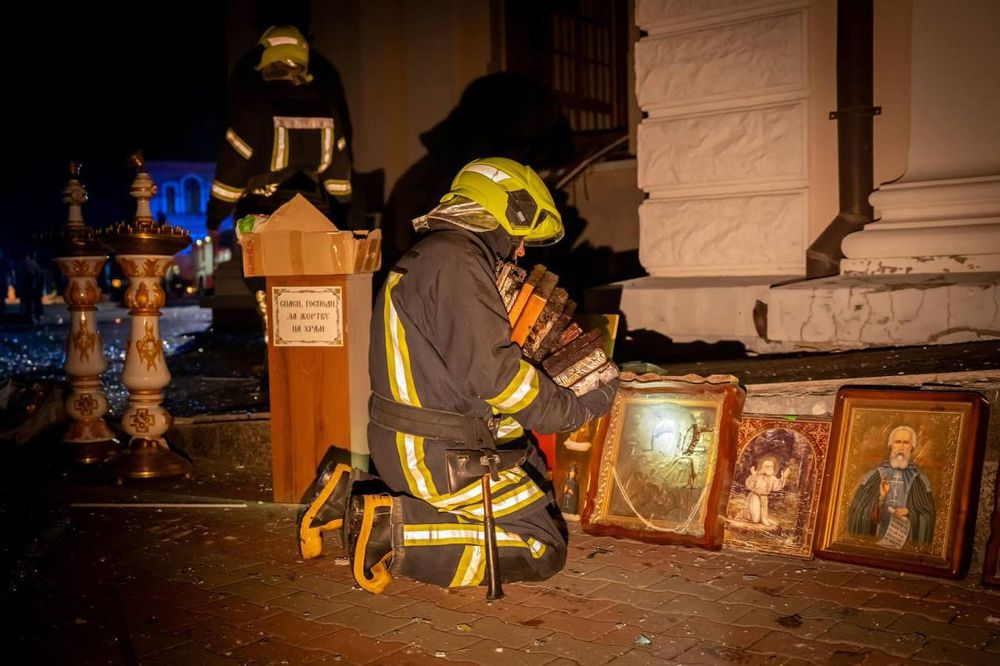 Local authorities later said that two architectural landmarks were severely damaged or destroyed in the attack, including the cathedral.
Emergency workers pulled an icon, the Kasperovskaya Icon of the Mother of God, from the rubble. The administration called the hero "the patron saint of Odesa."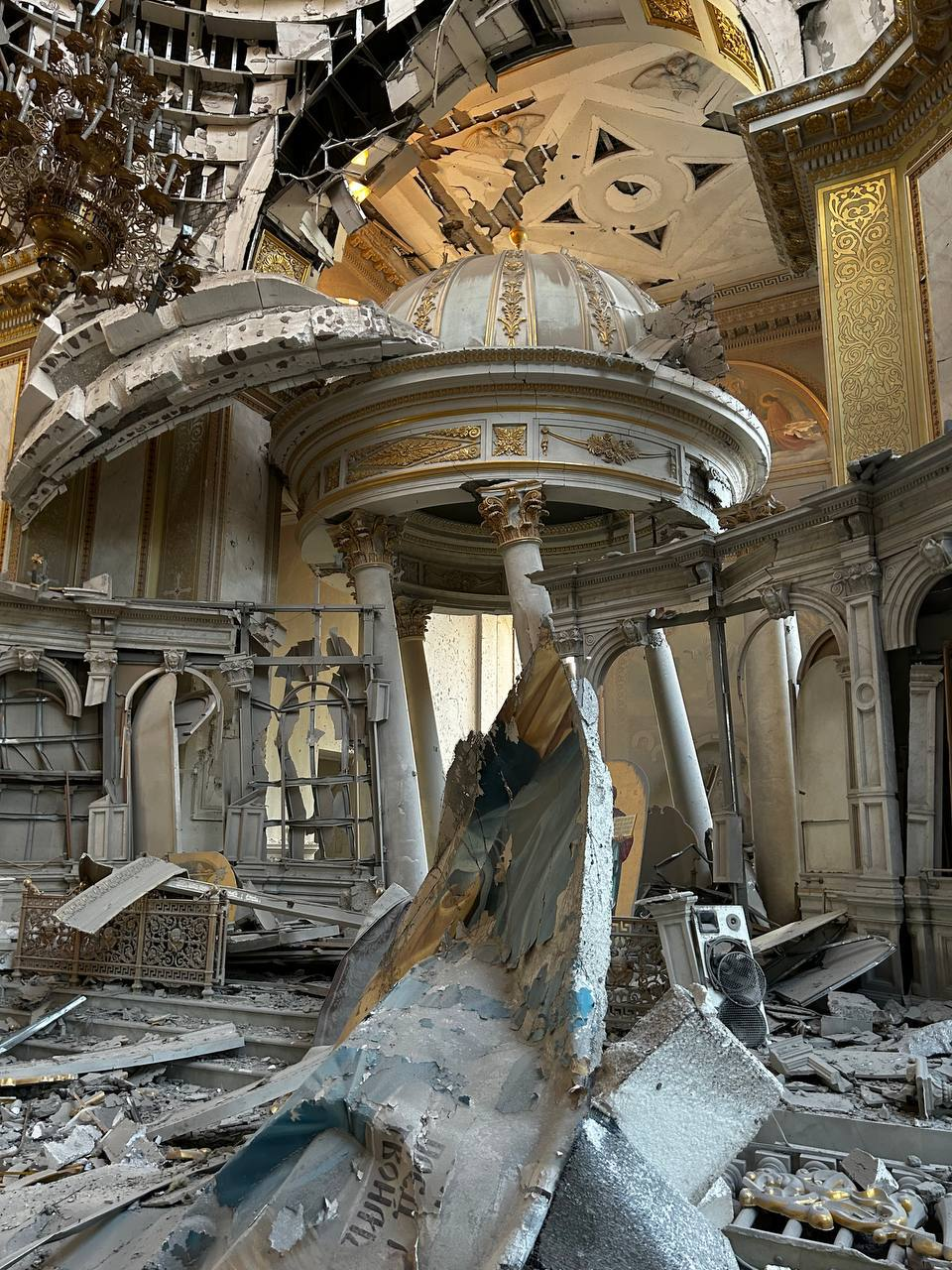 On July 21, UNESCO condemned the Russian military attacks on Odesa's historic center, named a world heritage site earlier this year. UNESCO listed "religious buildings" as the reason the city center deserved this designation.
The Transfiguration Cathedral was founded in 1794. The original building was destroyed by Soviet forces in 1936, and the new cathedral was established in 2003.
Photos posted to Telegram by the Odesa-based news outlet Dumska show extensive damage to the cathedral's interior, though the building remains standing.
Russian forces struck Odesa repeatedly this week, launching missiles at valuable infrastructure and killing and wounding civilians.
Russian shelling hits Nikopol, again
Governor Serhii Lysak reported that Russian troops attacked Nikopol in Dnipropetrovsk Oblast with heavy artillery overnight on July 23.
The attack damaged three residential buildings and three household facilities, Lysak said. A power line and a car were hit as well, he added.
There were no casualties, according to Lysak.
The governor also said the nearby Marhanets community was under attack but did not provide further details.
The Russian troops have constantly shelled Nikopol, a city with a pre-war population of over 115,000 residents.
The city sits across the Dnipro River from the Russian-controlled Enerhodar in neighboring Zaporizhzhia Oblast. Europe's biggest nuclear power plant, located in Enerhodar, has been occupied by Russian forces since March 4, 2022.
Nikopol lies on the bank of the Kakhovka Reservoir, which has dried up after Russian forces destroyed the Kakhovka Hydroelectric Power Plant's dam on June 6.
The dam breach has resulted in a large-scale environmental and humanitarian disaster in southern Ukraine and caused water supply issues in Crimea and four Ukrainian oblasts, including Dnipropetrovsk.
US sticking to decision not to give ATACMS missiles to Ukraine
The Joe Biden Administration is holding firm on its refusal to send ATACMS long-range missiles to Ukraine, the Washington Post reported on July 22, citing unnamed U.S. officials.
The MGM-140 Army Tactical Missile System, or ATACMS, is a guided long-range cruise missile with a reach of over 300 kilometers. Ukrainian officials believe ATACMS are needed for the counteroffensive to breach entrenched Russian positions.
However, the Pentagon believes that Ukrainian forces have more urgent needs than ATACMS, and worries that sending the needed amount of missiles to Ukraine would undercut U.S. readiness for other possible conflicts, according to the report.
ATACMS can reach farther than any of the U.S. weapons that have been delivered to Ukraine behind the frontline. The range would allow Ukrainian forces to target the farthest targets in occupied Crimea, including the Russian Naval base in Sevastopol and the bridge over the Kerch Strait, a key logistic route for the Russian forces.
Ukraine's Presidential Office head Andrii Yermak said on July 14 that the U.S. is "very close" to deciding whether to provide Ukraine with ATACMS missiles.
Nevertheless, the Washington Post reported that there has been no change in U.S. policy and no substantive discussion about ATACMS supply for months.
Since May, Ukrainian forces have been using Storm Shadow/SCALP missiles, jointly developed by the U.K. and France.
Depending on the version, these missiles have a maximum range of approximately 250 kilometers (155 miles).
"Without long-range weapons, it is difficult not only to carry out an offensive mission but also to conduct a defensive operation," President Volodymyr Zelensky said at a July 7 news conference in Prague.
U.S. lawmakers submitted a bill to Congress on June 16 proposing allocating $80 million to purchase ATACMS for Ukraine.
Since last year, the supply has been a contentious topic among U.S. politicians. In July 2022, National Security Advisor Jake Sullivan stated that Washington hesitated to provide ATACMS, fearing that such a move could escalate into World War III.