Pentagon announces Biden has cleared F-16 training for Ukrainian pilots
Pentagon Deputy Press Secretary Sabrina Singh confirmed on Aug. 8 that U.S. President Joe Biden "has given the green light" to allow and support the training of Ukrainian pilots to fly F-16 fighter jets.
"Denmark and the Netherlands are taking the lead on training," Singh said, adding that she "doesn't have any further updates at this time when it comes to specific pilots being trained."
Politico reported on Aug. 4 that the first group of Ukrainian pilots that will participate in F-16 training have been identified, citing unnamed U.S. sources. Eight Ukrainian pilots fluent in English are ready to begin training on the fighter jets as soon as formal training plans are drawn up by European allies and approved by the United States.
Additionally, 20 more pilots with minimal English skills are available to start language instruction in the U.K. within the month. A total of 32 Ukrainian pilots have been named to possibly take part in the training program, yet English language competency remains a significant obstacle.
Last month, the U.S. said it will allow European countries to train Ukrainians on F-16 fighter jets in a potential boon for Ukraine's efforts to counter Russia's air superiority.
In May, Biden had informed G7 leaders that the U.S would support a joint effort with allies and partners to train Ukrainian pilots on fourth generation aircraft, including F-16s, though it was unclear at the time when that training would start.
Russians hit kindergarten in Kherson, injure one person
The Kherson Oblast Military Administration says the Russians attacked the city with artillery. As a result of the bombardment, a 75-year-old locksmith suffered minor injuries.
Russians shell Nikopol district 3 times: 18-year-old killed, several others injured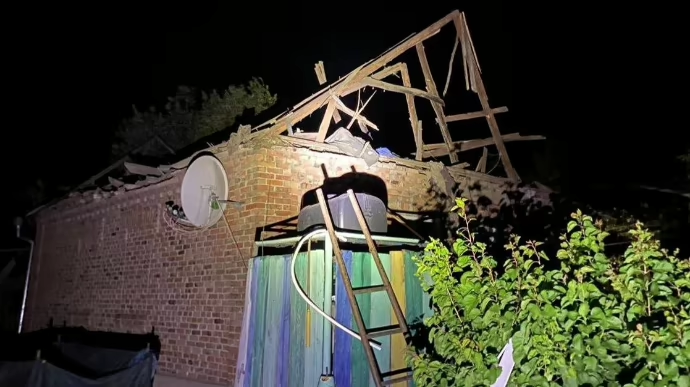 The Russian occupying forces have attacked the Nikopol district of Dnipropetrovsk Oblast three times since the evening of 8 August, killing an 18-year-old young man and injuring three other men.
Serhii Lysak, Head of Dnipropetrovsk Oblast Military Administration reported:
"The aggressor has attacked the Nikopol district three times since the evening. They [the Russian army] deployed heavy artillery to fire on Nikopol and Marhanets hromadas [hromada is an administrative unit designating a town, village or several villages and their adjacent territories - ed.].
An 18-year-old young man was killed. Three more people – men aged 21, 35 and 44 – were injured. They sustained mine-blast injuries and shrapnel injuries."
Lysak said the attack damaged the premises of a church, five private residential buildings, two outbuildings, a personal vehicle and several power lines.