Death toll rises to 5 following Russian missile strike on Pokrovsk; deputy head of Ukraine's State Emergency Service in Donetsk Oblast killed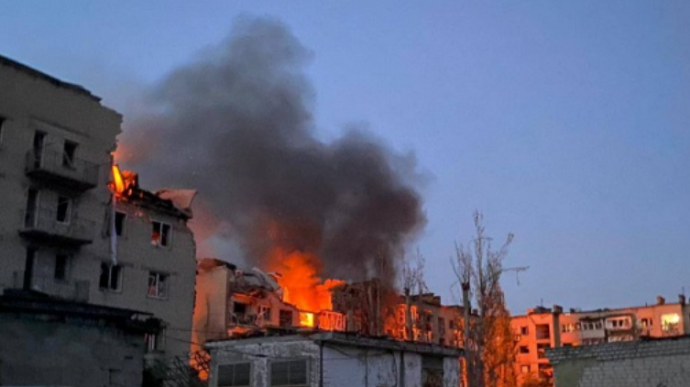 "Five people have been killed and 18 injured as a result of two missile strikes on residential buildings in Pokrovsk. As of 21:20, [we know that] four civilians were killed and three injured in the first strike.
The second strike killed the deputy head of the State Emergency Service in Donetsk Oblast. Four rescue workers, eight police officers, and three civilians sustained injuries. Our heroes were the first ones to arrive at the site of the attack to help people.
Rescue and search operations are still underway. We are clearing away the rubble and rescuing people from the Russian terror," - Ihor Klymenko, Head of Ukraine's Ministry of Internal Affairs, reported.
Ukrainian military confirms striking key Russian bridges to Crimea
The Ukrainian military confirmed on Aug. 6 that it struck two key road bridges linking the Crimean Peninsula to Russian-occupied parts of Kherson Oblast.
Ukrainian forces reportedly "hit two key (Russian) routes of communication" – Chornohar Bridge, which connects Ukraine's occupied Kherson Oblast to Crimea, and a smaller bridge from the Ukrainian village of Henichesk.
Earlier on Aug. 6, the Russian-installed proxy head in Zaporizhzhia Oblast, Vladimir Rogov, claimed Ukraine struck the Chornohar Bridge.
The Russian proxy published a picture of the bridge with a hole in the middle of the road, indicating suspended traffic on the bridge.
The bridge is the shortest route from the occupied peninsula to the front line in the southeast, where Ukrainian forces are conducting their counteroffensive.
Ukraine struck the Chonhar Bridge multiple times, on July 22, 29, and Aug. 6. The military confirmed the July attack, saying cruise missiles were used.
According to the Ukrainian army, the Russian military suffered from major logistical issues following the attacks.
Why Did Poland Suddenly Escalate Tensions in Its Relations with Ukraine?
The unexpected escalation in relations between Poland and Ukraine could jeopardize the achievements of recent years.
The current crisis and its severity were not entirely anticipated. It remains uncertain if it can be resolved shortly, as discussed in the article by Yurii Panchenko, editor of European Pravda, 'Poland Chooses Conflict: Why Relations with Our Key Ally Deteriorated.'
Poland's most influential politician, Jarosław Kaczyński, stated a year ago that his country had only two allies: Ukraine and England. President Volodymyr Zelenskyy's official visit to Warsaw in April, the first since the full-scale Russian invasion, was perceived as a triumph. Zelenskyy was received with protocol similar to US President Joe Biden not long before.
These examples illustrate the crucial changes in Ukraine-Poland relations over the past eighteen months.
Poland had been taking significant steps in supporting Ukraine, sometimes at the expense of its interests. However, it was expected that Polish policy towards Ukraine could become more pragmatic over time, as any support has its limits.
Nevertheless, this correction has been too abrupt. It started with protests by Polish farmers displeased with Ukrainian grain, oil, and corn in the domestic market. Since parliamentary elections are approaching in Poland, and the ruling party, Law and Justice, faces a challenging road to victory, farmers' votes became crucial. Therefore, the Polish authorities opted for escalation with their ally.
In May, Poland and three other countries (Hungary, Slovakia, and Bulgaria) imposed a sale ban on Ukrainian agricultural products, which required European Commission approval.
Kyiv made concessions twice, while the mentioned countries advocated for extending the ban until the end of the year at least. However, Poland went all-in and announced that it would not open its market to Ukrainian agricultural products, even if the European Commission made a different decision.
Kyiv did not remain silent this time. Prime Minister Denys Shmyhal reacted sharply, stating that it was an unfriendly and populist move that would significantly impact Ukraine's global food security and economy. He called on partners and the European Commission to ensure the unhindered export of Ukrainian food to the EU.
The Ukrainian prime minister's words sparked a sharp reaction in Warsaw.
Does this conflict imply a reevaluation of the relations between the two countries? Yes and no.
It is popular to believe in some segments of Polish society that if Poland has done so much for Ukraine, it has the right to demand certain concessions from Kyiv. Only political marginal figures, with minimal chances of coming to power, could openly voice such views until recently.
However, the rapid rise of the Confederation Party has changed the situation. It has taken away some of the ruling Law and Justice party's voters and has become Poland's only influential political force that can be considered anti-Ukrainian. It has now climbed to the third position in the ratings and may secure a "golden share" in forming a new coalition.
The success of the Confederation has alarmed the ruling party, leading them to adjust their policies and adopt a stricter stance towards Ukraine, likely aiming to appeal to voters.
We can expect more than two months of challenging relations with Poland, with parliamentary elections scheduled for October.
However, it is far from certain that after the elections, there will be an opportunity to restore bilateral relations to their previous format, especially considering the possibility of a protracted coalition formation and potential early elections.
China's role in peace talks may signal a major shift
China's participation in the Saudia Arabia peace talks could signal a shift in Beijing's allegiance; experts told journalists from Reuters.
Shen Dingli, an international relations scholar based in Shanghai, told Reuters that China needs to engage in international peace efforts because Russia is "bound to be defeated."
The international talks, held in Jeddah Aug. 5-6, brought together 40 countries to discuss Ukraine's path to peace. Although China refused to join a similar summit in Copenhagen in June, Special Envoy for Eurasian Affairs Li Hui represented Beijing at the Jeddah talks.
Russia was not invited to participate.
The Financial Times reported that Ukrainian allies welcomed China's move, viewing it as a shift away from Moscow's interests and toward Kyiv's.
An unnamed European official told the Financial Times that China "actively participated" in the forum and was "positive" about another meeting of its kind.
"Beijing will not want to be absent from other credible peace initiatives that are led by non-Western countries," Yun Sun, director of the China program at the Stimson Center think tank in Washington, told Reuters.