Ukraine destroyed 43 out of 44 Russian missiles and drones overnight
Russia launched 16 combat drones and 28 cruise missiles at Ukraine last night, the Ukrainian Air Force reported on Aug. 30.
Ukrainian air defense destroyed 15 of the 16 Shahed kamikaze drones and all 28 of the Kh-101, Kh-55, and Kh-555 missiles, according to the Air Force.
The drones and missiles were shot down above Kyiv, Cherkasy, Odesa, Mykolaiv, and Zhytomyr oblasts, the Air Force said.
Debris from a drone destroyed by air defense damaged infrastructure in Zhytomyr, including a railway track, according to Governor Vitalii Bunechko.
Oleh Kiper, the governor of Odesa Oblast, said that 8 Russian cruise missiles headed towards Odesa oblast were shot down over the sea.
The authorities in Cherkasy, Odesa, Mykolaiv, and Zhytomyr oblasts reported that there were no casualties.
In Kyiv, however, falling debris killed two people and injured three others, the Kyiv city military administration reported.
Debris caused a fire in a commercial building in the Shevchenkivskyi district, killing two security guards aged 26 and 36 years old.
Outside the city, 35 emergency service workers were deployed to Kyiv Oblast's Fastiv and Bucha districts due to fires caused by falling debris. A 69-year-old woman, a 43-year-old man, and a 49-year-old man were injured.
Kremlin reacts to second vessel leaving Ukrainian Black Sea port
The passage of civil vessels through the Black Sea corridor organized by Kyiv has nothing to do with resuming the grain initiative.
At the briefing, Dmitry Peskov, press secretary of Russian President Vladimir Putin was asked to comment on the information that on 27 August the second vessel since the suspension of the grain deal went out to sea from the corridor in the Black Sea organized by Kyiv. He was also asked whether this could potentially lead to resuming the grain deal.
Peskov ignored the first part of the question and concentrated on the other part.
"No, this has nothing to do with prospects for resuming the grain deal," he replied. "The prospect of resuming the grain deal directly depends on fulfilling promises made to the Russian side in deeds, not in words."
"This is a completely different substance, and our military is of course monitoring the situation," Peskov added.
Russians destroy kindergarten in Kherson Oblast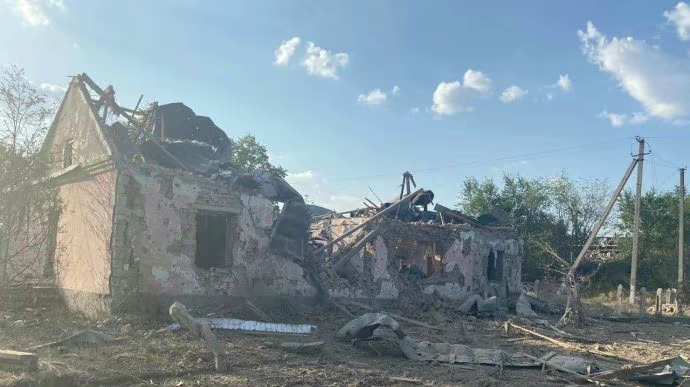 Russian forces have destroyed a kindergarten in the settlement of Mykolaivka in Tiahynka hromada [a hromada is an administrative unit designating a town, village, or several villages and their adjacent territories – ed.].
This photo shows the ruins of a kindergarten in the village of Mykolaivka in Tiahynka hromada. This is yet another educational institution destroyed by the Russian army in Kherson Oblast. No one was injured in the shelling.