Russians will try to destroy Ukraine's energy system this winter – Zelenskyy
Ukrainian President Volodymyr Zelenskyy said that Ukraine is fully aware of the danger that Russia can pose this winter.
"The current leadership of Russia always does what it has done before. They repeat all their mistakes. They repeat all the evil they have done. And when things don't go their way, they think they haven't done enough evil to succeed. Such insane logic. But we must take this into account. This winter, Russian terrorists will once again try to destroy our energy system. They cannot comprehend that Ukraine will not be subjugated anyway. But they will try to launch more attacks and more attempts to bypass our defenses."
"Today, at the Staff meeting, there were reports from the military and all officials responsible for the defense of our energy and our winter passing strategy. This included the reports of the head of government, ministers, leaders of energy companies, representatives of the communications sector, and regional administration heads. Everything related to the physical protection of facilities, rebuilding, following orders, and the course of action in case of various emergencies," - said Zelenskiy.
According to the President, Ukraine is taking even more steps to strengthen air defence and cooperation with partners for the sake of energy sustainability. In particular, this week they worked out the transfer of another Patriot battery to Ukraine with Germany, which will be a significant boost. Additional Hawk air defence systems and energy equipment support were agreed upon with Spain. The filling of the new security package was discussed with Italy.
Zelenskyy noted that the local government should perform all the preparatory work. And next week, there will be an assessment of the current state of preparation for winter in the regions.
Russians attacked village near Zaporizhzhia with cluster shells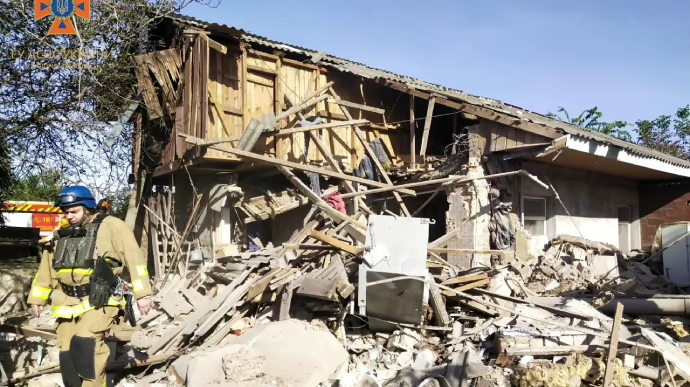 The Russian army attacked the village of Bilenke, Zaporizhzhia Oblast, on 7 October at about 07:45 (Kyiv time). A woman was killed, and two more people were injured during the attack. Five private houses were damaged as a result of the attack. The authorities specify that Russian servicemen fired cluster shells at a peaceful village with MLRS.
Missile attack on Kharkiv: Almost 100 buildings damaged in total
At the sites of missile attacks on Kharkiv, where two people were killed and 30 others injured, 88 buildings were damaged. A search and rescue operation was completed at the scene of the strikes, where two people were killed (a 68-year-old woman and a 10-year-old boy) and 30 residents were injured.
In total, Russian strikes damaged 88 buildings, including 61 high-rise residential buildings. Strikes also damaged 46 cars.
Russians attacked Odesa Oblast with Onix missiles
The Russians attacked Odesa Oblast with Onix missiles on the night of 6-7 October. A boarding house building and a grain storage facility were hit, and the houses were damaged. Onix supersonic anti-ship missiles were launched from the Bastion coastal missile system in temporarily occupied Crimea.
The strike occurred on the boarding house building in the recreation area and in the granary of the port infrastructure.
It is also reported that missile fragments and the blast wave caused a fire in a garage cooperative, and several apartment buildings were damaged.
Two Ukrainian women killed in Israel

The Embassy of Ukraine received confirmation from the Israeli police regarding the death of two Ukrainian citizens. Measures are being taken to organize the repatriation of their bodies. There is currently no information on the presence of Ukrainian citizens among the wounded or missing.
Russian forces hit Kostiantynivka with Iskander missile
Russian occupying forces have struck the city of Kostiantynivka in Donetsk Oblast with Iskander missile system, injuring 4 people, including a child aged 9.
The investigation established that the Russian army opened fire on Kostiantynivka on 8 October at 06:25, presumably using an Iskander cruise missile.
Russian troops hit a residential area. Four civilians were injured in the explosion: a girl, 9, and her mother, 44; a woman, 64, and her son, 41.
The injured were diagnosed with bruises, shrapnel injuries, and concussions. The people were in their own private residences at the time of the attack, near the site of the Russian missile hit. Paramedics provided the affected with first aid on the spot and hospitalized them.
Furthermore, ten multi-story residential buildings, 19 private households, a car, a boiler house, a gas pipeline, and a power line were damaged.
Over 10 people injured after the Russian night attack on Kherson
On the night of 7-8 October, Russians attacked the city of Kherson once again; 11 people, including a child, were injured.
During the night, residential areas of Kherson repeatedly came under fire of the Russian forces. Some shells did not explode. Ukrainian demolition experts disposed of them. Eleven citizens were injured. A 27-year-old woman and her 9-month-old daughter were hospitalized in moderate severity.
Among the injured is a 33-year-old Red Cross medic. He has suffered a blast injury and concussion. The man was hospitalized.
Several Kherson residents suffered an acute reaction to stress. They had to be taken to the hospital. These are two spouses: a husband of 67 years and a wife of 63 years, a husband of 56, and a wife of 54. There are also two women aged 87 and 62 years.